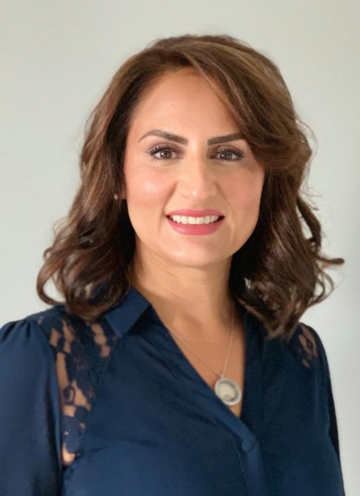 Dr. Zarlashta Popal (Dr. Zar) attended the University of Toronto for her undergraduate studies in Human Biology, Psychology and Religion before completing her 4 year Doctor of Naturopathic program at the Canadian College of Naturopathic Medicine, an accredited Naturopathic College in Ontario. Dr. Zar is a licensed Naturopath who has been practicing since 2005. She is a professional member in good standing with the Ontario Association of Naturopathic Doctors (OAND), Canadian Association of Naturopathic Doctors (CAND) and with the College of Naturopaths of Ontario (CONO).
Dr. Zar's focus is on treating the root cause of her patients' health concerns. She sees the patient and herself as a team and is passionate about getting them to achieve their goals.
Dr. Zar maintains a general Naturopathic practice that focuses on Women's Health (Menopause, Puberty, PMS, Fibroids, Endometriosis, PCOS and many more), Weight Loss (diet, food sensitivities/intolerances, detoxes), Gastrointestinal issues (Crohn's/Colitis, IBS, IBD), Female and Male fertility, Mental Health (stress, anxiety and depression), Skin conditions (acne, eczema, psoriasis), Childhood/Pediatric Conditions (ADD/ADHD, asthma, eczema, sleep disturbances), Autoimmune diseases and Thyroid conditions. Her treatment focus and passion is working with women to improve their health and regain their energy and vitality.
After taking each patient's unique circumstances into consideration, Dr. Zar uses diet and lifestyle changes, nutritional supplements, botanical medicine, acupuncture, Traditional Chinese Medicine and homeopathy to treat their acute or chronic health concerns.
In addition, Dr. Zar has a professional certificate in Biotherapeutic Drainage (Detoxification), Facial Rejuvenation Acupuncture/Cosmetic Acupuncture and is a Certified Rubimed Practitioner (working with patients and their traumas/mental/emotional/stress concerns).
When not seeing patients, attending seminars or doing research you can find this busy mom of three spending quality time with her kids, exploring the outdoors, hiking, practicing yoga, meditating and trying to keep herself healthy and balanced.
If you are sick and tired of being sick and tired call us today and book an appointment with Dr. Zar and start your journey to wellness!
What we Provide

Naturopathic Medicine
Naturopathic Medicine is the art and science of treating the patient's underlying cause of disease by supporting the body's natural healing process.

Lifestyle Counselling
Looking at a patients' lifestyle and seeing how it might be affecting their health. Issues such as stress, sleep, diet, exercise might be addressed.

Nutrition
Nutrition looks at the relationship between diet and health. Special diets, elimination of food, changes in dietary habits or the use of nutritional supplements might be recommended.

Botanical Medicine
The use of plants/herbs in many forms (teas, tinctures, capsules) are used for their healing and nutritional properties.

Homeopathic Medicine
Homeopathic remedies are minute dilutions of plant, animal and mineral substances designed to stimulate the body's "vital force" to heal itself.

Physical Medicine
Physical medicine refers to the use of hands on techniques such as soft tissue work (therapeutic massage), naturopathic manipulation of muscle, bones or spine, hydrotherapy or exercise therapy.
Do you need an appointment?
Office Location
Holistic HealthCare Centre
2174 Major Mackenzie Drive
Maple, ON
L6A 3Y8
905-553-9255
info@hhcentre.com
Monday 10 am – 7 pm
Wednesday 10 am – 7 pm
Saturday 9 am – 1 pm
Home